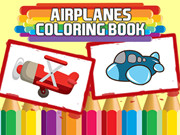 Airplanes Coloring Book
Kategoria :
other
Oceny graczy :
(0)
---
Opis :
Airplanes Coloring Book includes 16 different images of airplanes that kids can choose from and color it as they like. You have 24 different colors and 9 pencil sizes that they can use. After they are done with painting, they can use the print button to save the colored image and show it to their friends!
Hasła :
kids, HTML5, Drawing, Coloring, Boy, android, Aircraft, Paint, GameDistribution, plane
Control :
Mouse or tap to play.
Author :
cargamesonline.biz
---
Komentarze
Zaloguj się lub zarejestruj, aby dodać komentarz