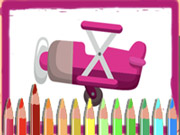 Airplanes Coloring Pages
Kategoria :
Puzzle
Oceny graczy :
(0)
---
Opis :
Do you want to show off your artistic talents? Do you want to be a master of painting? If you are also a fan of coloring games, don't miss this game! Airplanes Coloring Pages is a free online coloring and kids game! In this game you will find 16 different pictures which have to be colored as fast as you can to obtain a great score at the end of the game. It is worth mentioning that the game There are a variety of different types of helicopters, including jet flying and military helicopters, and even the largest super-speed aircraft. Are you ready?
Hasła :
puzzle, plane, Paint, kids, HTML5, Helicopter, Girl, flight, Drawing, Coloring,
Control :
Click and drag the mouse to play.
Author :
freepuzzlesgames.com
---
Komentarze
Zaloguj się lub zarejestruj, aby dodać komentarz