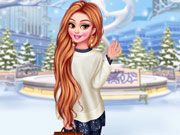 All Year Round Fashion Addict Belle
Kategoria :
girl
Oceny graczy :
(0)
---
Opis :
Beautiful girls always pay great attention to their dresses, no matter what season of the year, they must wear clothes that match the weather. In the game All Year Round Fashion Addict Belle, you, as a fashion designer, Choose 12 different clothes and makeup for Bella, so that Belle can wear different clothes every month, and calmly respond to changes in temperature and weather, regardless of the season of autumn and winter, Belle can go out happily Party with your best friends. If you are a fan of dress-up games, don't miss this game, and don't forget to share it with your friends.
Hasła :
Makeover / Make-up, jewel, HTML5, Holiday, Girl, Fashion, Dress Up, cartoon, android
Control :
Click to play.
Author :
egirlgames.net
---
Komentarze
Zaloguj się lub zarejestruj, aby dodać komentarz