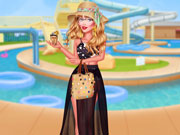 All Year Round Fashion Addict Star
Kategoria :
girl
Oceny graczy :
(0)
---
Opis :
There are four seasons in the year, and each season has different characteristics. Disney princesses hope to wear clothes that represent seasonal characteristics in each season. For example, in winter, they are made of fur and special warm fox fur Scarves, in the summer, there are silk skirts and straw hats. There are a lot of these clothes and they need to be matched with different makeup. As a Disney princess stylist, you need to choose clothes and pants for each season for the princesses with different makeup.
Hasła :
Princess, Movie, kids, jewel, HTML5, Holiday, Girl, Fashion, Dress Up, Disney
Control :
Click to play.
Author :
capy.com
---
Komentarze
Zaloguj się lub zarejestruj, aby dodać komentarz