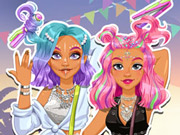 Amanda's Summer Festival Real Haircuts
Kategoria :
girl
Oceny graczy :
(0)
---
Opis :
Amanda's Summer Festival Real Haircuts is a game related to hairstyling. If you are a hairstylist or a hair styling fan, don't miss this game. Amanda is going to attend this year's Grammy Awards. The exclusive hairstylist, you need to design the right hairstyle for her. Use your imagination, cut her hair, color it, straighten it or curl it. Then, choose a suitable dress for Amanda, because, at the awards ceremony, she will sing songs and give a speech. Finally, you need to choose some precious jewelry for her, because this will be a very grand party, Amanda hopes to dress very formally.
Hasła :
Princess, party, Makeover / Make-up, kids, jewel, HTML5, Hair, Girl, Fashion, Dress Up
Control :
Click to play.
Author :
girlsplay.com
---
Komentarze
Zaloguj się lub zarejestruj, aby dodać komentarz