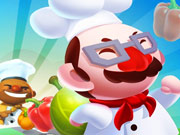 Amazing Cook
Kategoria :
cooking
Oceny graczy :
(0)
---
Opis :
Even the best cook can't cook delicious food without ingredients. In the game Amazing Cook, you will play an excellent cook. Your task is to collect fresh fruits and vegetables. The ingredients are placed in the designated location. It is worth noting that you can snatch the ingredients of other chefs. You need to avoid the roadblocks near the vegetables and collect enough ingredients within the specified time. Are you ready? You can also cut other people's ingredients, but be careful not to lose yours halfway. Become the chef with the most ingredients.
Hasła :
skill, Running, Obstacle, kids, Fruit, food, Cooking, collecting, Boy, HTML5
Control :
Swipe quickly on the screen to bring as many ingredients as possible back to your restaurant.
Author :
nosite.com
---
Komentarze
Zaloguj się lub zarejestruj, aby dodać komentarz