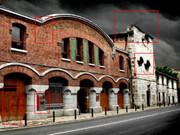 Amazing Spain Differences
Kategoria :
Puzzle
Oceny graczy :
(0)
---
Opis :
Amazing Spain Differences is a kind of newly developed finding difference puzzle game. Spot all the differences between the two pictures of amazing Spain within the giving time. The faster, the higher of the scores. Good luck!
Hasła :
Timing, skill, puzzle, kids, HTML5, House, highscore, Difference, brain, Boy
Control :
Mouse interaction.
Author :
frivclub.com
---
Komentarze
Zaloguj się lub zarejestruj, aby dodać komentarz