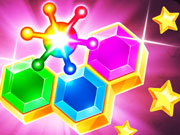 Amazing Sticky Hex – Hexa Block Puzzle Games
Kategoria :
Puzzle
Oceny graczy :
(0)
---
Opis :
Do you like playing easy hexagonal puzzles? Are you looking for an interesting brain training game to challenge your thinking and explore exciting levels? Amazing Sticky Hex matching game is unique, it will help you improve your hexagon matching skills and make the most of your free time. All you need to do is to understand the puzzle layout and drag and drop the hexagonal blocks to the correct position on the board. In addition to this, you also need to consider all possible moves before putting down the block. Are you ready?
Hasła :
puzzle, kids, HTML5, GameDistribution, brain, Boy, block, android
Control :
Click and tap to play.
Author :
gamedistribution.com
---
Komentarze
Zaloguj się lub zarejestruj, aby dodać komentarz