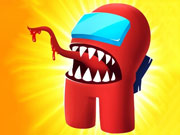 Among Arena.io
---
Opis :
Among Arena.io has proven to be one of the most interesting new arcade games this year, with addictive gameplay and 3D art style, our lovely Among Us is back! But they encountered new dangers on their way back to Earth. Some terrifying cosmic snakes are coming with Among Us. Their purpose is to swallow Among Us and absorb their power. You can help Among Us to kill these cosmic snakes. And avoid the enemy's tracking? Collect wires and grow, avoid bigger players and hunt smaller players. Customize your character with many colors and hats!
Hasła :
space, skill, Running, robot, Multiplayer, kids, HTML5, collecting, Boy, arcade,
Control :
Click and tap to play.
Author :
nosite.com
---
Komentarze
Zaloguj się lub zarejestruj, aby dodać komentarz