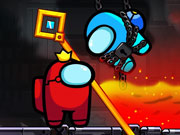 Among Rescue
Kategoria :
Puzzle
Oceny graczy :
(0)
---
Opis :
Among Rescue is undoubtedly one of the most interesting puzzle games this year, with addictive gameplay and 2D art style. It is worth noting that our cute little robot Among Us is back again. The location of this adventure is a rocket flying to the universe. A rescue game's totally new style, instead of the hero and rescue the princess as the previous game, then in this game, we will be joined as a rescue impostor and help the impostor get the gold. If you like this game, don't forget to share it with friends!
Hasła :
spaceship, space, Rocket, robot, rescue, puzzle, Obstacle, kids, jewel, HTML5
Control :
Click and drag the mouse to play.
Author :
yad.com
---
Komentarze
Zaloguj się lub zarejestruj, aby dodać komentarz