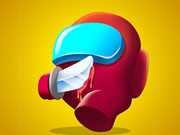 Among U: Red Imposter
Kategoria :
other
Oceny graczy :
(0)
---
Opis :
Our cute little robots are back. Yes, their name is Among Us. This time, they will experience an unforgettable adventure on a spaceship in space. In the game Among U: Red Imposter, you will play the role of a killer together with Among Us. Your task is to find the betrayed robots on the spaceship. If you find them, don't hesitate to kill them. Remember, this is a very secret task. You cannot be discovered by anyone. Are you ready? Glad you will complete the mission at each level!
Hasła :
spaceship, space, robot, planet, Killing, kids, Boy, android, Among Us, 3D
Control :
Use arrow keys to control the character move.
Author :
bestgames.com
---
Komentarze
Zaloguj się lub zarejestruj, aby dodać komentarz