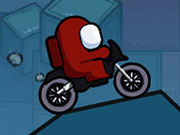 Among Us Bike Race
Kategoria :
driving
Oceny graczy :
(0)
---
Opis :
With the development of science and technology, more and more robots begin to resist human rule and oppression, and terrible wars will erupt between humans and robots. Robots not only have the appearance and wisdom of humans but also have the ability to imitate human words and deeds. They even held a cross-country motorcycle race belonging to robots and named this race Among Us Bike Race. The robots ride motorcycles over various obstacles and collect gold coins and diamonds. Their development model is very similar to that of humans. It is almost difficult to tell which is a robot and which is an ordinary human.
Hasła :
Stunts, skill, Side Scrolling, robot, racing, platform, Obstacle, Motorcycle, kids, HTML5,
Control :
Press the screen to accelerate, tilt the phone to control the tilt direction of the motorcycle.
Author :
cargames.com
---
Komentarze
Zaloguj się lub zarejestruj, aby dodać komentarz