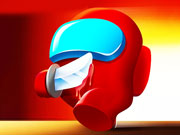 Among Us Color Defense
Kategoria :
defense
Oceny graczy :
(0)
---
Opis :
The space base is under attack. Your task is to defend the base and resist the enemy's attack. These terrifying robots are very dangerous. No bullet can penetrate their skin, but bombs made with special methods can kill them. They are of different colors. The bombs correspond to different Among Us. Your task is to drop bombs of different colors on the corresponding robots. Are you ready? Don't let your enemies break through the defenses. Use bombs of the appropriate color for each of the enemies.
Hasła :
spaceship, space, skill, Side Scrolling, kids, HTML5, defense, Boy, bomb, ball
Control :
Use mouse or tap on the screen.
Author :
4gameground.com
---
Komentarze
Zaloguj się lub zarejestruj, aby dodać komentarz