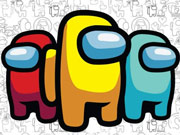 Among Us Coloring
Kategoria :
girl
Oceny graczy :
(0)
---
Opis :
Among Us Coloring is a free online coloring game. There are a total of 8 different pictures in this game, all related to Among Us. They have very cute cartoon robot images. You can choose from 23 different colors. After the coloring is completed, you can save the image. If you like this game, don't forget to share it with friends who also like Among Us! In this game you will find 8 different pictures which have to be colored as fast as you can to obtain a great score at the end of the game.
Hasła :
robot, Paint, kids, HTML5, Girl, Drawing, Coloring, cartoon, android, Among Us
Control :
Use your mouse to play the game or tap on the screen.
Author :
freepuzzlesgames.com
---
Komentarze
Zaloguj się lub zarejestruj, aby dodać komentarz