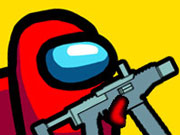 Among Us Crazy Shooter
---
Opis :
Because of environmental pollution and population surge, interstellar wars have been going on for hundreds of years. Come and find out the aliens hidden among us. Aliens of different races live on unknown planets. One of humans and aliens will surely perish. These aliens have special functions. They can imitate any human being seen, including appearance, character, behavior, etc. It is difficult to distinguish human beings. The war between different races has begun. Your task is to collect more amethysts and upgrade weapons and equipment.
Hasła :
Submachine Gun, space, skill, Shooting, robot, Killing, kids, HTML5, Gun, fire
Control :
Mouse click or tap screen to play.
Author :
yad.com
---
Komentarze
Zaloguj się lub zarejestruj, aby dodać komentarz