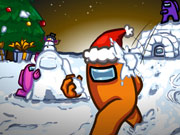 Among Us Difference
Kategoria :
other
Oceny graczy :
(0)
---
Opis :
Among Us Difference is an interesting puzzle game. Your task is to find the differences between two similar pictures. It will help you improve your observation and concentration. Today, our theme is related to Among Us. Yes, our cute little robot is back. There are 6 different sets of pictures in the game. There are 7 different places in each set of pictures. You only have one minute to come. Observe the pictures and find the differences between them, have fun!
Hasła :
Timing, Snow, robot, kids, Ice, HTML5, Holiday, Difference, Christmas, Boy
Control :
Use your mouse to play the game or tap on the screen.
Author :
freepuzzlesgames.com
---
Komentarze
Zaloguj się lub zarejestruj, aby dodać komentarz