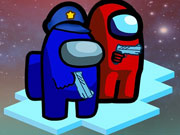 Among Us Endless Run
Kategoria :
Arcade
Oceny graczy :
(0)
---
Opis :
Among Us Endless Run is a very special new arcade game with addictive gameplay and space background. If you are Among Us's fan, don't miss this game! You will have the opportunity to control two robots for parkour at the same time. You need to avoid obstacles on the platform and ensure that the two robots survive at the same time. This is not a simple game. Are you ready?
Hasła :
space, skill, Running, Obstacle, kids, Jumping, HTML5, bricks, Boy, block
Control :
Click to play.
Author :
playschoolgames.com
---
Komentarze
Zaloguj się lub zarejestruj, aby dodać komentarz