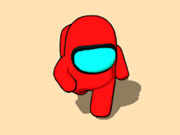 Among Us Jumping
Kategoria :
physics
Oceny graczy :
(0)
---
Opis :
Among Us Jumping has proven to be the most interesting new arcade game this year, yes, our cute little robot is back! Their name is among us, if you are also a lover of these cute creatures, don't miss this game! Your task is to control a small robot, using the rebound principle in physics, so that the small robot can avoid obstacles and reach the end smoothly. Today, you and the Among Us characters can play this new adventure on your phones and tablets, and you can see that you will have to make sure that in the shortest time.
Hasła :
skill, Side Scrolling, robot, platform, physics, Obstacle, kids, Jumping, collecting, fish
Control :
Using the arrow keys or mouse to control the little Among Us character.
Author :
nosite.com
---
Komentarze
Zaloguj się lub zarejestruj, aby dodać komentarz