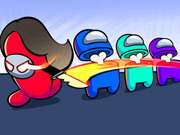 Among Us Match3
Kategoria :
other
Oceny graczy :
(0)
---
Opis :
Among Us Skins is undoubtedly the hottest matching game this year. Your task is to match all the Among Us of the same color within the specified time. It is worth noting that only match three or more Among Us of the same color. To get points, the game has a time limit. Pay attention to the countdown bar on the left side of the screen. Are you ready to play this fun game with Among Us? This cool game three in a row, in which you have to put the blocks of the same color in a series of three pieces or more to achieve the highest possible score, be careful to account the scale to the left did not fall too low, otherwise, the game will be over. Enjoy the game!
Hasła :
Timing, robot, Relaxation, matching, match-3, kids, HTML5, Boy, android, Among Us
Control :
Use your mouse to play the game or tap on the screen.
Author :
shootinggames4all.com
---
Komentarze
Zaloguj się lub zarejestruj, aby dodać komentarz