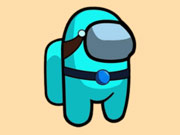 Among Us Memory
Kategoria :
Puzzle
Oceny graczy :
(0)
---
Opis :
If you are very confident in your memory, don't miss Among Us Memory. That's right, our cute little robots are back, and their number has become more and more colors. In the game, your task is to remember the appearance of Among Us in each card, and click on two cards with the same pattern in succession. It is worth noting that the first half of the level is relatively simple, but the more difficult it becomes as you go to the back. The number of cards continues to increase, and the requirements for memory are also increasing. Are you ready to play Among Us Memory?
Hasła :
Timing, robot, puzzle, memory, kids, HTML5, card, brain, Boy, block
Control :
Use mouse on desktop or touch buttons on your mobile device.
Author :
newkidsgames.org
---
Komentarze
Zaloguj się lub zarejestruj, aby dodać komentarz