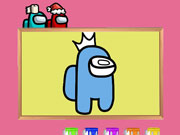 Among Us: Painting Book
Kategoria :
other
Oceny graczy :
(0)
---
Opis :
The cute little robots are back again. Their name is Among Us. Today, you can paint all the robots that have not been painted, and choose the color you like, click the paint bucket to color the robot's appearance. After you are done, you can tap the balloons that appear on the screen and have more fun. Finally, don't forget to take photos of your work. ith paint on the brush, click the image and color it. When you're done painting, you can have more fun by popping the balloons on the screen. Have fun!
Hasła :
robot, Paint, kids, HTML5, Drawing, Coloring, cartoon, Boy, android, Among Us
Control :
Click to play.
Author :
crazyschoolgames.com
---
Komentarze
Zaloguj się lub zarejestruj, aby dodać komentarz