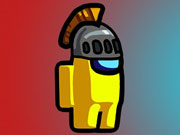 Among Us Puzzle
Kategoria :
jigsaw
Oceny graczy :
(0)
---
Opis :
Among Us Puzzle is a very interesting jigsaw puzzle game. Each graphic means an unusual adventure. Some robots are at Halloween parties, some are dressed like angels, and some are policemen and chasing criminals, some robots like bullfighting like humans. In this puzzle game consisting of 12 different characters, your task is to combine the pieces and complete the entire puzzle. When you can't identify a fragment or don't know its correct location, you can press the hint button and make the level easier by viewing the entire picture.
Hasła :
robot, puzzle, Movie, memory, matching, kids, Jigsaw, HTML5, cartoon, Boy,
Control :
Left Click and Touch.
Author :
playschoolgames.com
---
Komentarze
Zaloguj się lub zarejestruj, aby dodać komentarz