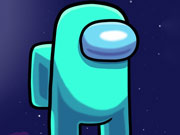 Among Us Shooting Boxes
---
Opis :
Among Us Shooting Boxes is a game with the popular character from the most popular game Among Us. In this game the player must not fall to the surface. As it flies through the air, it fires at box obstacles. You have to hit each box as much as the number on it. So choose boxes with a smaller number to make way for other obstacles. Go through as many obstacles as you can before you lose your life. If you like this game, don't forget to share it with your friends!
Hasła :
spaceship, space, skill, Shooting, robot, Obstacle, Launch, kids, Jumping, HTML5
Control :
Tap on screen to play.
Author :
g8-games.com
---
Komentarze
Zaloguj się lub zarejestruj, aby dodać komentarz