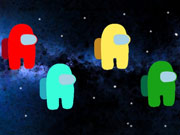 Among Us Smash
Kategoria :
Arcade
Oceny graczy :
(0)
---
Opis :
Among Us Smash is undoubtedly the hottest new arcade game this year, yes, our cute little robot Among Us is back! This time they will experience an extraordinary adventure. All Among Us are packed in balloons of different colors. Your task is to break the balloons and save all Among Us. Smash all the balloons except the blue balloon. You have the right to smash the blue balloon three times. Please be careful, because sometimes the balloon is divided into several balloons and a blue balloon is hidden between them. So when you smash other When ballooning, the blue balloon will also be crushed. Are you ready?
Hasła :
Timing, skill, robot, kids, HTML5, highscore, Boy, Balloon, arcade, android, phone
Control :
Tap on balloons to play this game.
Author :
g8-games.com
---
Komentarze
Zaloguj się lub zarejestruj, aby dodać komentarz