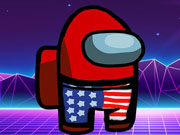 Among Us Unstoppable
Kategoria :
Arcade
Oceny graczy :
(0)
---
Opis :
Those impostor robots are here again! Among Us Unstoppable is a new arcade game. In the game, you will play a cute imposter and experience some interesting adventures. Pay attention to avoiding spikes and obstacles on the platform. Your task is to stay alive and reach the end. This is a very dangerous task, because you move very fast, if you encounter any kind of obstacle, you will have to restart the game, are you ready? Start the game by choosing the character you want and one of three levels, enjoy the adventure.
Hasła :
space, skill, Running, platform, planet, Obstacle, kids, Jumping, cartoon, Boy
Control :
Left Click or Touch.
Author :
playschoolgames.com
---
Komentarze
Zaloguj się lub zarejestruj, aby dodać komentarz