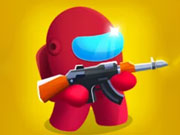 Angry Among Shot
Kategoria :
physics
Oceny graczy :
(0)
---
Opis :
Can you imagine the linkage between Among Us and Angry Birds? In the game Angry Among Shot, your dream will come true. Our cute little robots are back again. Their name is Among Us. This time, these little robots are going to experience a unique adventure. Collect gold coins in a special way on the farm. Your task is to The Among Us on the slingshot pops out, hits the green fat pigs, and hits all the fat pigs to pass the level. The popping angle and force of Among Us are controlled by your fingers. Pay attention to the force and angle so that you can hit the fat pig more accurately. The ejected Among Us will leave the ejection trajectory, which can be used to adjust the angle and strength of the reference. In the game, players need to eliminate all fat pigs to win.
Hasła :
skill, robot, platform, physics, Launch, kids, HTML5, collecting, Boy, arcade,
Control :
Click and tap to play.
Author :
ultimateapk.com
---
Komentarze
Zaloguj się lub zarejestruj, aby dodać komentarz