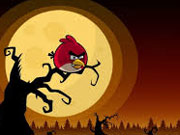 Angry Birds Halloween
Kategoria :
Puzzle
Oceny graczy :
(0)
---
Opis :
Have you seen the famous animated film Angry Birds? In Angry Birds Halloween, the player controls a flock of multi-colored birds that are attempting to retrieve their eggs, which have been stolen by a group of hungry green pigs. In each stage of the gameplay, enemy pigs are sheltered by structures made of various materials such as wood, glass, and stone resembling children's toy building blocks. The objective of the game is to eliminate all the pigs on the level. The player must set the angle and force of the bird's travel by pulling back on the slingshot.
Hasła :
skill, Side Scrolling, puzzle, platform, physics, Obstacle, Movie, Launch, kids, HTML5,
Control :
Click and drag the mouse to play.
Author :
gamemonetize.com
---
Komentarze
Zaloguj się lub zarejestruj, aby dodać komentarz