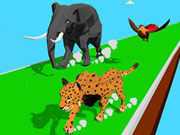 Animal Transform Race 3D
Kategoria :
Puzzle
Oceny graczy :
(0)
---
Opis :
Animal Transform Race 3D has proven to be one of the most interesting new arcade games this year. Are you participating in a happy and fast Transformers competition? If the answer is yes, then we have prepared the most epic game for you! Come and give everything in the form of animals and win this epic game. Undoubtedly, this is an adventure worth taking! When you are running on a track full of obstacles, you need to change from one animal to another to match the animal's abilities with the obstacles waiting for you!
Hasła :
skill, Running, puzzle, platform, Obstacle, kids, Boy, bird, avoid, arcade,
Control :
Click and tap to play.
Author :
bestgames.com
---
Komentarze
Zaloguj się lub zarejestruj, aby dodać komentarz