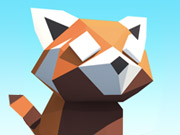 Animal.io
---
Opis :
Animal.io is a very interesting multiplayer online game. Players will act like a dinosaur and control the dinosaur to push other animals off the platform by swinging its tail. Meat can increase your size and hamburger can add the length of tail, the mushroom will become little size but faster. Your ultimate goal is to kill all other enemies and protect yourself from being eaten by other stronger animals, even if you die Don't worry, you can immediately resurrect and continue the game in the game.
Hasła :
Snake, skill, platform, Multiplayer, kids, horse, highscore, Editor Choice, Dinosaur, cute
Control :
Use joysticks to move and tab to swing tail.
Author :
yad.com
---
Komentarze
Zaloguj się lub zarejestruj, aby dodać komentarz