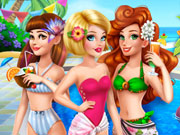 Annie & Eliza Double Date Night
Kategoria :
girl
Oceny graczy :
(0)
---
Opis :
Summer is here and the beautiful Spanish Gold Coast welcomes new tourists. Annie and Eliza wanted to spend this hot summer on the famous Barcelona Gold Coast a long time ago, and now they have finally realized their dreams! Disney princesses also have a very small trouble. They don't have suitable bikini swimsuits. Come and create waterproof makeup and sexy swimsuits for them, show their excellent figures on the charming beach, and enjoy the summer sun!
Hasła :
Seduction, Princess, Movie, Makeover / Make-up, kids, HTML5, Holiday, Girl, Frozen, Fashion
Control :
Click to play.
Author :
girlsplay.com
---
Komentarze
Zaloguj się lub zarejestruj, aby dodać komentarz