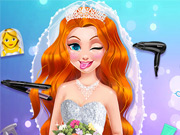 Annie Wedding Hairstyle
Kategoria :
girl
Oceny graczy :
(0)
---
Opis :
Princess Annie is finally getting married to her beloved prince! She wants to make a new hairstyle to welcome this significant and grand wedding. She found you, a highly skilled hairstylist, to design her a grand and fashionable hairstyle suitable for her wedding. Get her ready for a haircut, apply conditioner and shampoo, and then wash her hair. After that, try to match the hairstyle to the given style so that you can create exactly the style she wants. Or let your imagination run free and try a unique style in creativity mode. Have fun!
Hasła :
Wedding, Princess, Movie, kids, Hair, Girl, Frozen, Fashion, Disney, tablet
Control :
Click to play.
Author :
girlsplay.com
---
Komentarze
Zaloguj się lub zarejestruj, aby dodać komentarz