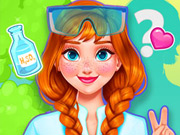 Annie's Boyfriend Spell Factory
Kategoria :
girl
Oceny graczy :
(0)
---
Opis :
Annie recently came up with a new idea for making potions. Just add three kinds of magic items to the cauldron, and you will get a potion full of magic power. There is no doubt that Annie's boyfriend will be the first to try the effects of these potions. According to Annie's vision, these magic items can be matched with 12 kinds of potions with different effects. Come try to make these 12 different potions! Have fun!
Hasła :
Princess, Movie, matching, magic, kids, Girl, Frozen, Disney, cartoon, gems
Control :
Click to play.
Author :
girlsplay.com
---
Komentarze
Zaloguj się lub zarejestruj, aby dodać komentarz