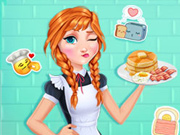 Annie's Breakfast Workshop
Kategoria :
girl
Oceny graczy :
(0)
---
Opis :
Annie is planning to open a Breakfast Workshop on the street. Join Annie in her new kitchen adventure! Help her to prepare delicious breakfast for the customers. The recipes are from around the world because we will receive orders from all over the world. Start accepting customer orders, prepare recipes with the given food, and then prepare the food for delivery. As business experience increased, Annie came up with more ideas for delicious breakfast recipes. Hope you enjoy the game!
Hasła :
Timing, Relaxation, Princess, Movie, Management, Makeover / Make-up, kids, Girl, Frozen, iPad
Control :
Click to play.
Author :
girlsplay.com
---
Komentarze
Zaloguj się lub zarejestruj, aby dodać komentarz