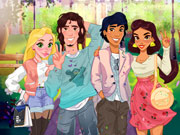 Annie's Cool Fashion Trends Blog
Kategoria :
girl
Oceny graczy :
(0)
---
Opis :
This is a summer full of love elements. Many of Annie's classmates have found boyfriends. Annie is very happy and decides to take pictures of her classmates. Annie is a fashion fan. She regularly posts articles on her blog. This week, she wants to try some new fashion styles immediately and release different styles and fashion trends for the week. Join her and help her choose the coolest outfits to meet this challenge. You need to choose suitable clothes and handbags for the two students and change the most suitable filters and photo frames.
Hasła :
School, Love, kids, jewel, HTML5, Girl, Fashion, Dress Up, cartoon, android
Control :
Click to play.
Author :
girlsplay.com
---
Komentarze
Zaloguj się lub zarejestruj, aby dodać komentarz