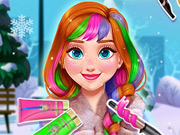 Annie's Winter Chic Hairstyles
Kategoria :
girl
Oceny graczy :
(0)
---
Opis :
Winter is coming, and Annie wants to change to a fashionable hairstyle to get ready for this new season. First of all, you need to wash and care for Annie's hair. Then you need to make a hairstyle for Annie according to her choice. Cut, trim, curl, straighten, and color over and over again until you can find a hairstyle that really suits her. You have unlimited choices, just create the craziest and most beautiful hairstyle among all the choices. Have fun!
Hasła :
Snow, Movie, kids, Holiday, Hair, Girl, Frozen, Fashion, Dress Up, tablet
Control :
Click to play.
Author :
girlsplay.com
---
Komentarze
Zaloguj się lub zarejestruj, aby dodać komentarz