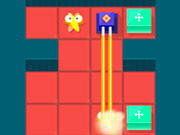 Annihilate
Kategoria :
Puzzle
Oceny graczy :
(0)
---
Opis :
Since the discovery of quantum physics, atoms have been considered as one of the basic particles that make up matter. Annihilate is a game related to atoms. Your task is to match two atoms with the same properties together. While trying to fulfill your goal, various obstacles like lasers, black holes or uranium 235 hinder the way. If you like this game, don't forget to share it with your friends.
Hasła :
puzzle, kids, HTML5, GameDistribution, brain, Boy, block, android
Control :
Mouse click or tap to play.
Author :
gamedistribution.com
---
Komentarze
Zaloguj się lub zarejestruj, aby dodać komentarz