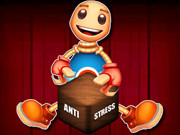 Anti Stress Buddy
Kategoria :
other
Oceny graczy :
(0)
---
Opis :
If you are under great pressure in work or study, welcome you to play with the game. Anti Stress Buddy is a decompression game, you just need to hit it on the line. You can also graffiti finally appear a beautiful landscape map, more wonderful fun decompression game is waiting for you to find in the game. Have a great time!
Hasła :
Relaxation, Plant, Letters, kids, HTML5, highscore, Boy, bird, ball, android, phone
Control :
Mouse or tap to play.
Author :
video-igrice.com
---
Komentarze
Zaloguj się lub zarejestruj, aby dodać komentarz