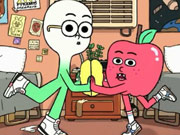 Apple and Onion: Messin' Round
Kategoria :
other
Oceny graczy :
(0)
---
Opis :
Apple and Onion: Messin' Round is a 2D arcade game based on the Apple and Onion animated TV series. Apple and Onion will be sleeping, and the cat will be up and running wanting to throw the clothes in the air from the box. You dear kids will have to be very careful and fast in order to catch all the shirts, all the sneakers, and all the socks that the cat will throw in the air, and you will gain points with each object that you save from falling on Apple or Onion's bed while they sleep. Have fun!
Hasła :
soccer, Skateboard, room, kids, HTML5, football, food, collecting, cat, Cartoon Network
Control :
Click to play.
Author :
cartoonnetwork.com
---
Komentarze
Zaloguj się lub zarejestruj, aby dodać komentarz