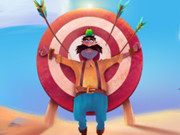 Apple Shooter Remastered
Kategoria :
other
Oceny graczy :
(0)
---
Opis :
This is a classic apple shooting. You will shoot apples on people's heads with your sharp arrows. If you shoot someone in the head, the game is over. Master the skill of shooting. As the level increases, the range of the shot will be longer. Have fun play with Apple Shooter Remastered. Good luck.
Hasła :
skill, HTML5, Boy, Bow, blood, avoid, Launch
Control :
Use the mouse to play.
Author :
kizi.com
---
Komentarze
Zaloguj się lub zarejestruj, aby dodać komentarz