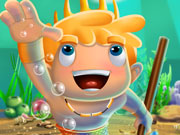 Aqua Blocks
Kategoria :
Puzzle
Oceny graczy :
(0)
---
Opis :
Aqua Blocks is an ultimate casual puzzle game that comes up with cute water graphics and lovely sound effects. The goal is to create a vertical or horizontal line of blocks. Drag and drop the blocks in the right place to fit them. Three different shapes will see at a time to make up the shape placement in your mind. For your help, you also get an Aqua Power which helps you to remove a horizontally and vertically block line from the board. Just tap on the power to use it.
Hasła :
Timing, Tetris, puzzle, kids, HTML5, GameDistribution, Boy, block, android
Control :
Click or tap to control.
Author :
gamedistribution.com
---
Komentarze
Zaloguj się lub zarejestruj, aby dodać komentarz