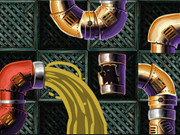 Aqua Pipes
Kategoria :
Puzzle
Oceny graczy :
(0)
---
Opis :
Aqua Pipes is a puzzle pipe game. The rules of the game are very simple, that is, the pure water needs to be smoothly transported to the blue pipe by connecting the right road. Use the mouse to tap the screen to play this game. The game tests the player's wisdom and is full of fun. Don't hesitate to join the game and have fun.
Hasła :
puzzle, Pipe, matching, kids, HTML5, brain, Boy, android, GameDistribution
Control :
Use your mouse to play.
Author :
qigames.com
---
Komentarze
Zaloguj się lub zarejestruj, aby dodać komentarz