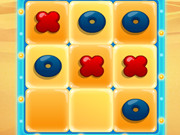 Arabian Tic Tac Toe
Kategoria :
Puzzle
Oceny graczy :
(0)
---
Opis :
Arabian Tic Tac Toe is a classic strategy game. Choose the circle or X mark to start the game. Your opponent is the computer in the game. So your mission is to put your symbol in a line much faster than the AI. There are easy mode and hard mode to choose, have a good time in Arabian Tic Tac Toe!
Hasła :
turn-based, strategy, puzzle, kids, HTML5, GameDistribution, brain, Boy, android
Control :
Use mouse to play this game.
Author :
g8-games.com
---
Komentarze
Zaloguj się lub zarejestruj, aby dodać komentarz