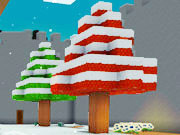 Arctic Assault
---
Opis :
This game is newly developed for the fans who want to play shooting games online. In the process of playing this game, you need to use the mouse and the keyboard to play. Hope you can enjoy this exciting game! good luck!
Hasła :
Timing, Snow, Simulation, Shooting, shoot-em-up, Plant, Pixel, Minecraft, Killing,
Control :
W, A, S, D to walk. Spacebar to jump. Shift to run. Mouse to aim and fire.
Author :
adventurebox.com
---
Komentarze
Zaloguj się lub zarejestruj, aby dodać komentarz