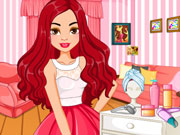 Ariana Inspired Hairstyles
Kategoria :
girl
Oceny graczy :
(0)
---
Opis :
Ladies, are you ready for a super fun hair design? Today, we will teach you how to make two signature hairstyles of Ariana Grande. In the game Ariana Grande Inspired Hairstyles, you need to follow the instructions and learn how to make high ponytail hairstyles. First, you need to wash the girl's hair with the correct shampoo and conditioner. Then, use cute ribbons and hair clips to decorate the hair and change the girl's hair color as needed. Are you ready?
Hasła :
kids, jewel, HTML5, Hair, Girl, GameDistribution, Fashion, cute, Cleaning, Celebrity,
Control :
Click to play.
Author :
dressupwho.com
---
Komentarze
Zaloguj się lub zarejestruj, aby dodać komentarz