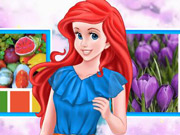 Ariel Spring Color Combos
Kategoria :
girl
Oceny graczy :
(0)
---
Opis :
Ariel is so excited for spring, she cannot wait to try out the new trends! This year she is really inspired by the color combinations which are so popular on the runway. So help her create some new wonderful outfits using them. Pastel colors are so trendy right now, so match an ice cream pink with a baby blue and a pretty orange for such a sweet dress. The color of the season is definitely green and let it stand out by matching it with neutrals. And then of course, pink and blue is a combo that hadn't gone out of style yet, but the novelty is that you can go for saturated colors this time. Pick dresses, asymmetric tops, fitted skirts and really pretty jewelry to complete Ariel's look. Finally you can also help her customize a gorgeous purse with cute colors and patterns. Have an amazing time playing this lovely game named Ariel Spring Color Combos right here!
Hasła :
Paint, Makeover / Make-up, kids, HTML5, Holiday, Girl, Fashion, Dress Up, Decorate, Coloring
Control :
Click to play.
Author :
egirlgames.net
---
Komentarze
Zaloguj się lub zarejestruj, aby dodać komentarz