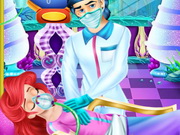 Ariel's Cardiopulmonary Resuscitatio
Kategoria :
girl
Oceny graczy :
(0)
---
Opis :
Ariel's heart stopped suddenly when she was in the class. Classmates send her to hospital and want Eric could help her. Now Eric will do the cardiopulmonary resuscitation for her, can you help him?
Hasła :
Surgery, Princess, Movie, kids, HTML5, Girl, Doctor, Disney, cartoon, android
Control :
Tap on screen on mobile phone and mouse click on PC.
Author :
babygames.com
---
Komentarze
Zaloguj się lub zarejestruj, aby dodać komentarz