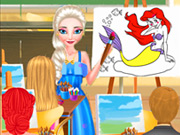 Art Teacher Elsa
Kategoria :
girl
Oceny graczy :
(0)
---
Opis :
Princess Elsa become an art teacher for children after her college, today is the new semester, she is excited and wants to be fully prepared, please help her find the proper dress for a teacher, and then listen Elsa's class to show some advice, learn to draw a mermaid by yourself and then color it, with your help, I believe that Elsa will become a fabulous teacher. Have fun!
Hasła :
School, Princess, Movie, Mermaid, kids, HTML5, Girl, Frozen, Elsa, educational
Control :
Use the mouse to play.
Author :
yiv.com
---
Komentarze
Zaloguj się lub zarejestruj, aby dodać komentarz