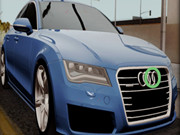 Audi A7 Differences
Kategoria :
Puzzle
Oceny graczy :
(0)
---
Opis :
In each group of Audi A7 Cars, there are five differences between the two cars. You need to find them in limited time and enter in the next level. After you pass the level the time will increase, so you will have more time for next level. Enjoy Audi A7 Differences!
Hasła :
Timing, kids, HTML5, highscore, Difference, car, brain, Boy, android, puzzle
Control :
Use mouse to play this game.
Author :
startracing.net
---
Komentarze
Zaloguj się lub zarejestruj, aby dodać komentarz