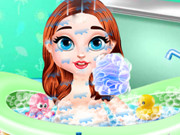 Baby Taylor Caring Story New Room
Kategoria :
girl
Oceny graczy :
(0)
---
Opis :
Taylor's parents want to give Taylor a new room to play with her lovely pet, so they need to clean up the storage room and sell the extra equipment. Are you willing to join us to help her together? Hope you can have a good time!
Hasła :
room, kids, HTML5, Girl, Decorate, cute, collecting, Cleaning, Baby, animal,
Control :
Mouse or tap to play.
Author :
babygames.com
---
Komentarze
Zaloguj się lub zarejestruj, aby dodać komentarz