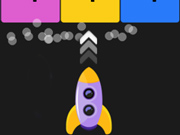 Block Shooter
---
Opis :
Block Shooter is an airplane shooting game. You can use the mouse to control the aircraft, use the aircraft to shoot the blocks. Remember to avoid touching the blocks, or you will lose. The more blocks you shoot, the higher your score will be. Good luck and have fun.
Hasła :
Shooting, kids, HTML5, highscore, Boy, block, avoid, android, Aircraft, Number
Control :
Use the mouse to play.
Author :
yiv.com
---
Komentarze
Zaloguj się lub zarejestruj, aby dodać komentarz